Meet Ethan Smith
Meet Ethan Smith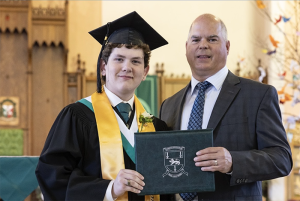 O'Gorman Catholic High School Graduating Class of 2022 Valedictorian
New Northern Student in Civil Engineering Technician
Beginning College in Fall 2022
For a while I wanted to go to university, because I wanted to have that level of certification, but then when I found out that Northern College has a transfer agreement with Lakehead University, it was really appealing to me.
The fact that I could do two years at Northern to get my diploma as a technician and get that hands-on training, and then transfer over to get my degree, was really appealing to me.
I do think that there is that stigma that university is a higher form of education. I've fallen victim to that perspective, especially in early high school. I had it in my head that college was at one level and university at another.
After doing my research, what I've found is that it really just depends on what field you're going into. They're really the same in a lot of way. They're just two different kinds of schools.
College is a lot more hands-on and it all depends on what you want to get out of post-secondary.
All throughout my school experience I've been in classes of thirty students or more and it's hard to get a question asked, which is something that really concerned me about university. Studying with a couple hundred other people would be difficult to get that attention when I need it.
That's what appealed to me about Northern, the classes are smaller and if I have a question, it will be nice to know that the help is there. There is an attention to detail and a willingness to help that comes with that small class size and I'm really excited about that.
Does Northern College sound like a good fit for you?
Here's how to take your first steps on your exciting new and rewarding career path.