Career Fair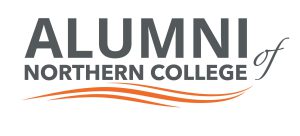 Spring 2023 Virtual Career Fair Series
>>> Watch for more details coming soon on an in-person job fair at the Timmins Campus March 22, 2023.<<<

Frequently Asked Questions
The Career Fair Series for Spring 2023 is taking place virtually on Zoom from 1:30 p.m. to 2:30 p.m. on Tuesday, Wednesdays and Thursdays from February 14 to March 2, 2023.
The virtual career fair is open to all students, alumni, and employment services clients of Northern College.
Please complete the registration form to select the sessions you wish to attend.
Details on joining the Zoom sessions will be sent to the email provided.
Recordings will also be available after the sessions end.
Do I need to attend everyday?
You can attend as many or as few days of the Career Fair as you wish.
A more detailed schedule of information sessions and employers you can meet on specific days will be available.
I am an employer, who do I contact?
Tips for Success!
Come prepared with questions.
Have your resume ready to provide to employers.
Read up about the employers in attendance in advance.