Haileybury Campus
Contact Haileybury Campus
640 Latchford Street, Box 2060
Haileybury ON P0J 1K0
T: 705-672-3376 | F: 705-672-2014
Campus Services
Student Services Office
Our student services offices are located at the main office. We are here to help you with any question you have about registration and fees. You can also reach us online at hlstudentservices@northern.on.ca
Advising Services Offices
Our Student Advising Services are here to assist you with any issues, concerns or questions you may have. Our services are free, and we can help with student life, academic support, or any other issue. You can also reach us at advisingserviceshl@northern.on.ca
Study Spaces
We have some beautiful spaces for you to relax and learn in. Our cafeteria has a beautiful view of Lake Temiskaming and the town of Haileybury. We also have an amazing library space to spread your books out in, and enjoy the afternoon sun!
Bookstore
Get all your textbooks, academic supplies, and show your school spirit with Northern College clothing from our online Bookstore.
Athletics
The Haileybury Campus has a dedicated fitness room for students to use equipment like weights and fitness equipment. Our students are also invited to use the gym, and its spaces for playing sports and hosting activities.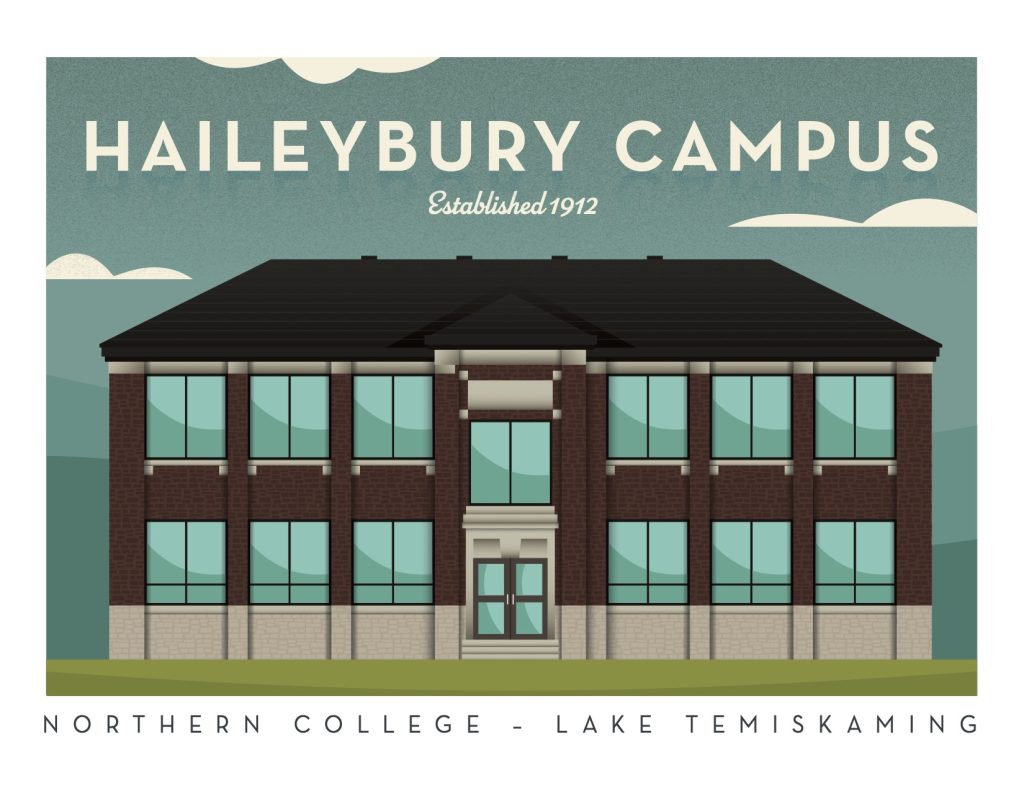 Library

Northern's Libraries are a focal point for teaching and learning at Northern College. They contribute to every aspect of academic and intellectual life at the college by providing a broad range of services to students, faculty, administration, staff and the community. We provide users with access to an extensive collection of resources including books, periodicals, electronic databases and audio visual materials.
To access databases, eBooks, catalogs, videos and program guides, visit Northern's library guide.
Life Off-Campus
If you dream of living on the shores of a picturesque lake surrounded by miles of countryside in the heart of northern Ontario, you may just belong in Haileybury.
The community – part of a collection of communities known as Temiskaming Shores, is located on the edge of beautiful Lake Temiskaming which stretches out over 100 kilometres!
History of the Region
As the modern century dawned, a boom of sorts was happening in Ontario's wild northern reaches.
At a time when automation and industry was sweeping the globe, hardy farmers and longstanding fur outposts still dominated the landscape of the clay belt east and west of Lake Temiskaming, but change was on its way.
It moved slowly at first, driving in halting progress north from the outpost of North Bay, but one rail tie and spike at a time, the modern world was cutting its way through the rocky outcrops and bottomless muskeg of the Canadian shield.
The birth of the boom town that would come to be called Cobalt can be traced back to two contractors, hired to provide the lumber rail ties that made the progress of the railway possible.
Legend tells us that J.H. McKinley and Ernest Darragh were surveying their timber limits while afloat on Loon Lake when they spotted the unmistakeable sheen of precious metals on that lake's rocky shores.
It was a sighting that proved to deliver on an epic wealth of silver, sparking northeastern Ontario's first precious metal mining boom and cementing the communities of Cobalt, Haileybury and New Liskeard as a new 'civilized' outpost on the frontier.
The story is one you know, with the discovery of untold wealth came droves of people from near and far, driven by the promise and opportunity of a fresh start far beyond the bounds of what they knew.
The mines boomed, communities flourished and for the first time in Northern Ontario, a specialist school was established to translate the mining expertise that populated the stopes and drifts of local operations into an educational opportunity for anyone looking to carve a place for themselves in the boomtowns of Ontario's northeast.
The dream of one enterprising and visionary educator, the Haileybury School of Mines story begins in 1912, a tale that over the coming decades would cement Canada as a world leader in mining expertise.
Designed to meet the needs of a burgeoning Canadian mining industry, HSM as it affectionately came to be known, would produce thousands of world-renowned mining professionals, creating a legacy reflected in the quality of its graduates and in the wisdom of its teaching techniques.
For decades, HSM operated independently, atop its hillside home overlooking Lake Temiskaming, until 1970, when the institution merged with the newly created Northern College.
Building upon the valuable lessons offered by HSM, Northern College continued the long-held traditions of experiential learning, close knit classes and above all a sense of community that has long defined both institutions.
In the northern reaches of Ontario, tradition isn't a word tossed around lightly, or often, but Northern College is proud of its roots, its influences, and the legacy on which it is founded, it serves as a driving force, an informing voice and a reassuring reminder that we do things our own way, following our own Northern star.
We wholeheartedly encourage our students to do the same.