Timmins Campus
Contact Information
Location:
4715 Highway 101 East
South Porcupine, ON

Mailing Address:
P.O. Box 3211
Timmins, ON
P4N 8R6
Phone: 705-235-3211
Fax: 705-235-7279
Campus Services
Student Services Office
Our student services offices are located at the main office. We are here to help you with any question you have about registration and fees. You can also reach us online at tcstudentservices@northern.on.ca
Study Spaces
We have some beautiful spaces for you to relax and learn in. Our cafeteria has a beautiful view of Porcupine Lake. We also have multiple spaces across campus to study or enjoy a conversation with friends, like the lounge, the atrium, the cafeteria, the Indigenous Student Lounge, the Student Study and the Library.
Advising Services Offices
Our Student Advising Services are here to assist you with any issues, concerns or questions you may have. Our services are free, and we can help with student life, academic support, or any other issue. You can also reach us at advisingtc@northern.on.ca.
Bookstore
Get all your textbooks, academic supplies, and show your school spirit with Northern College clothing from our online Bookstore or shop in-store at the Timmins Campus.
Library

Northern's Libraries are a focal point for teaching and learning at Northern College. They contribute to every aspect of academic and intellectual life at the college by providing a broad range of services to students, faculty, administration, staff and the community. We provide users with access to an extensive collection of resources including books, periodicals, electronic databases and audio visual materials.
To access databases, eBooks, catalogs, videos and program guides, visit Northern's library guide.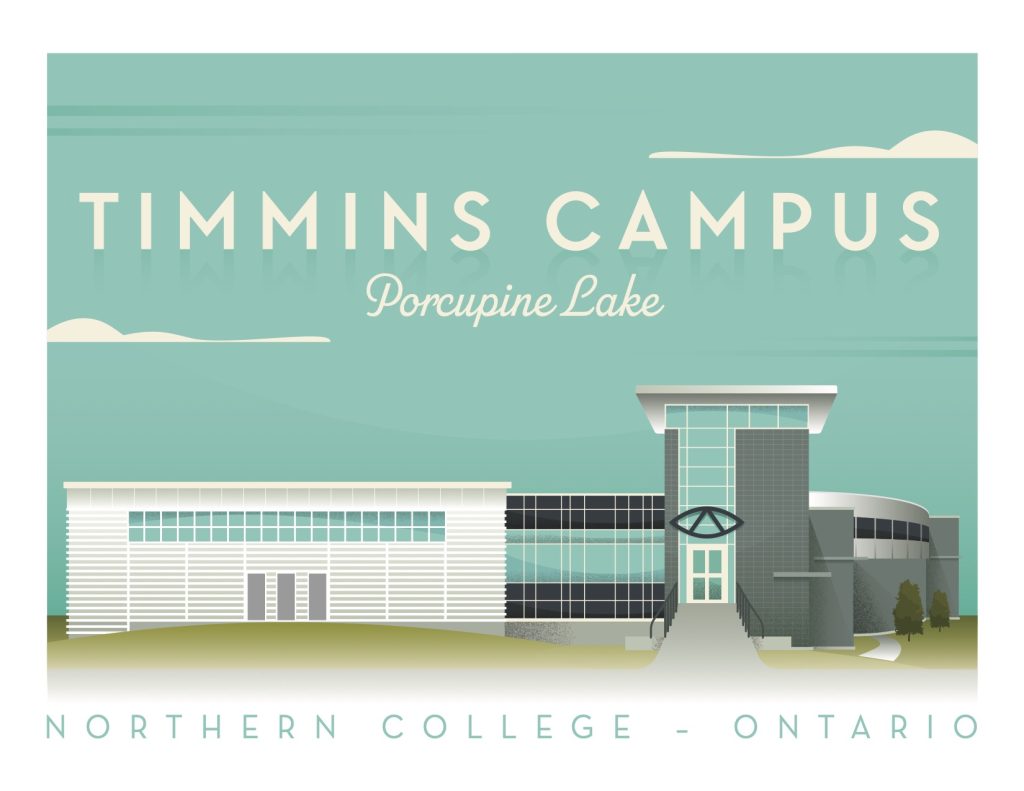 Life Off-Campus
Timmins is the ultimate combination of urban and rural living, with amenities and services of a larger city and the outstanding landscapes Northern Ontario just minutes away.
Whether you enjoy fishing or hunting, camping, skiing, snowmobiling, you'll find plenty of space to do the things you love with many opportunities for shopping, dining, and enjoying the arts. 
History of the Region
The rumours began in the bars, clubs, stores and barber shops of Colbalt and Haileybury.
'Gold up in Porcupine, everybody knows." The song went.
The area known as the Porcupine was a long and arduous trek from what had now become a booming economic and cultural centre; a flourishing, civilized outpost, a capital of sorts in what was known as New Ontario, or the frontier.
The journey would be a treacherous one, rough-hewn road and railways were being created, but those looking to strike it rich would travel as the voyageurs once did, drawing on the wisdom and understandings of Canada's Indigenous peoples to navigate the waterways, thick boreal forests and bottomless muskeg mires that would come to define the region.
As with most legends, the truth of the matter may be lost to history, but the story of the Porcupine's first gold discovery is another tale of happenstance, good timing, and embellishment.
As the story goes, Jack Wilson set out with a crew of eight, discovering a large quartz outcrop after two weeks of methodical exploration, what would soon become known as the 'Golden Staircase,' signalling the birth of the Dome mine and the community that would come to be called Timmins.
Jack Wilson, alongside Sandy McIntyre and Benny Hollinger were enterprising men whose ambition would etch their names forever in the bedrock of Timmins history, each staking claims that would turn into the most productive gold mining operations the world had ever seen.
These three prospectors would move on to search out new riches, leaving in their wake a century long legacy in the Dome, Hollinger and McIntyre mines, but those wealthy enough to bankroll and operate those mines would leave their own legacy, lending their names to the communities that formed around their operations.
Schumacher, Timmins and Bickell.
With great wealth comes great interest and people from across the globe flocked to Timmins, bringing with them their traditions and culture, their skills and their work ethic, shaping what would become a diverse cultural outpost in the frontier.
As the mines grew and Timmins flourished, the staples of a 'civilized' modern society soon followed, bars, clubs, theatres, schools and places of worship would solidify the Porcupine as a community that rivalled any other major city in the region.
But with the booms came the busts and the inconsistent realities of life, reinforcing a sense of resilience that would come to define northerners from their southern counterparts, providing an optimistic lens through which they would shape a distinctive outlook on life.
It is with this same optimistic outlook on life that Northern College was founded in 1967, with its Timmins Campus serving as both a place of learning and a community hub for more than 50 years.
Inspired by those who carved a community out of the unforgiving boreal landscape, Northern College instills that pioneering spirit and willingness to push the limits of what is deemed possible in its students, firm in the knowledge that they are capable of redefining the world as they know it.