Kirkland Lake Campus
Contact Information
Location:
140 Government Rd E
Kirkland Lake, ON
Mailing Address:
PO Box 250
Kirkland Lake, ON
P2N 3H7
Phone: 705-567-9291
Fax: 705-568-8186
Campus Services
Student Services Office
Our student services offices are located at the main office. We are here to help you with any question you have about registration and fees. You can also reach us online at klstudentservices@northern.on.ca
Study Spaces
We have some beautiful spaces for you to relax and learn in. Our cafeteria is a large open space with an amazing outdoor eating area in good weather. Our campus also boasts comfortable seating areas around campus and in the library.
Advising Services Offices
Our Student Advising Services are here to assist you with any issues, concerns or questions you may have. Our services are free, and we can help with student life, academic support, or any other issue. You can also reach us at advisingkl@northern.on.ca
Bookstore
Get all your textbooks, academic supplies, and show your school spirit with Northern College clothing from our online Bookstore.
Library

Northern's Libraries are a focal point for teaching and learning at Northern College. They contribute to every aspect of academic and intellectual life at the college by providing a broad range of services to students, faculty, administration, staff and the community. We provide users with access to an extensive collection of resources including books, periodicals, electronic databases and audio visual materials.
To access databases, eBooks, catalogs, videos and program guides, visit Northern's library guide.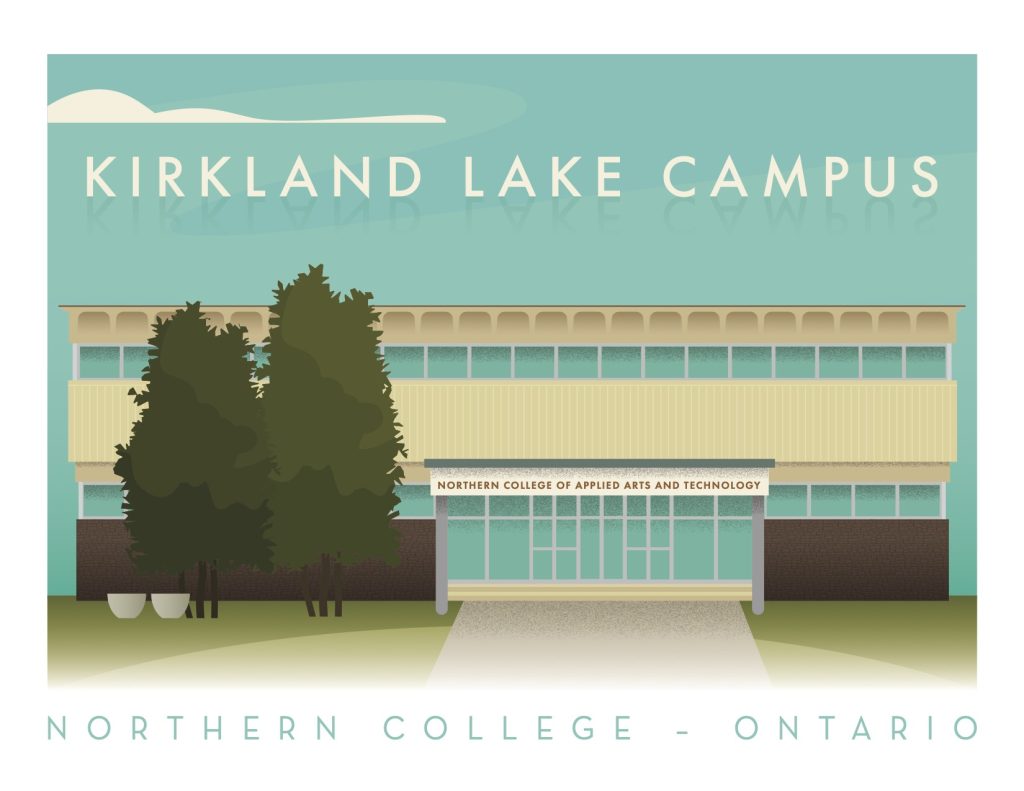 Life-Off Campus
Kirkland Lake rarely sees a dull moment, with award-winning festivals and concerts attracting popular bands and musicians in smaller venues and bustling sports clubs and athletics facilities for plenty of activities.
Just outside the community there is access to the beaches of Crystal Lake, the campgrounds of Esker Lakes Provincial Park, and a little further east, is Mont Cheminis at the Quebec border. Like all our campuses, the great outdoors is right in our backyard.
History of the Region
They were drawn north by rumour and promise.
Crowded aboard passenger cars winding on rails through the Canadian Shield, the craggy outcrops and bottomless muskeg were all the remained of a once great mountain range, eroded by the endless march of time.
It was the fortune to be found within the roots of these once great mountains that drove them further from home than they had ever been.
GOLD!
It was a noun that leapt out of the newsprint like a verb; a call to action, an invitation to destiny.
They came from every direction of the compass, drawn like its needle, North.
Some were poor, some rich, still others were experienced prospectors, but most knew nothing of gold or how to find it, much less how to survive the unforgiving world they would be entering.
Many aboard these trains would fail to strike it rich, but most would find work in the mining camps quickly springing up in places like Kirkland Lake, where all of the good claims had already been staked.
Throughout its century long history, the heartbeat of Kirkland Lake rises and falls with the price of gold, as true now as it was when Ed Hargreaves and William Wright got lost hunting rabbit in 1911 and tripped over a quartz vein. The first of many intangible stories, colourful characters, of fortunes found and lost, their names and stories etched into history and the community they helped found: Oakes, Tough and Bryce.
Eventually, prospecting gave way to production, production brought workers and with workers came families. In time, Kirkland Lake sprang into life, tents and shacks morphed into brick and mortar as the wealth flowed from stopes and drifts and into the lives of those who mined it.
What came would be an endless cycle of ups and downs, booms and busts. Mines would be brought into production as others closed, permanently cementing in the people of Kirkland Lake a resilient stubbornness that would come to define most northern, frontier mining towns.
But through that resilience, culture was born; springing in the music being played in local bars and clubs and the stories being told on the stages of local theatres. Tales reflecting the unique experiences of Kirkland Lake and its surrounding burroughs, stories of brilliant resilience, companionship, and community.
As community roots drove deeper into the harsh and unforgiving soil of the Canadian Shield, Kirkland Lake flourished, and by 1967 would be home to the founding campus of Northern College, drawing students from around the country.
Drawing from generations of technical experience close to home, Northern would create a reputation for itself as a strong technical college, providing an education that created successful careers for its graduates.
History is a living creature, with new pages and tales being written every day, how will your story fit into the tales of resilience and success that have come to define Kirkland Lake?