Moosonee Campus
Contact Information
Location & Mailing Address:
First Ave Box 130
Moosonee, ON
P0L 1Y0
Phone: 705-336-2913
Email: access@northern.on.ca
Campus Services
Student Services Office
Our student services offices are located at the main office. We are here to help you with any question you have about registration and fees. You can also reach us online at access@northern.on.ca.
Advising Services Offices
Our Student Advising Services are here to assist you with any issues, concerns or questions you may have. Our services are free, and we can help with student life, academic support, or any other issue. You can also reach us at access@northern.on.ca.
Bookstore
Get all your textbooks, academic supplies, and show your school spirit with Northern College clothing from our online Bookstore.
Library

Northern's Libraries are a focal point for teaching and learning at Northern College. They contribute to every aspect of academic and intellectual life at the college by providing a broad range of services to students, faculty, administration, staff and the community. We provide users with access to an extensive collection of resources including books, periodicals, electronic databases and audio visual materials.
To access databases, eBooks, catalogs, videos and program guides, visit Northern's library guide.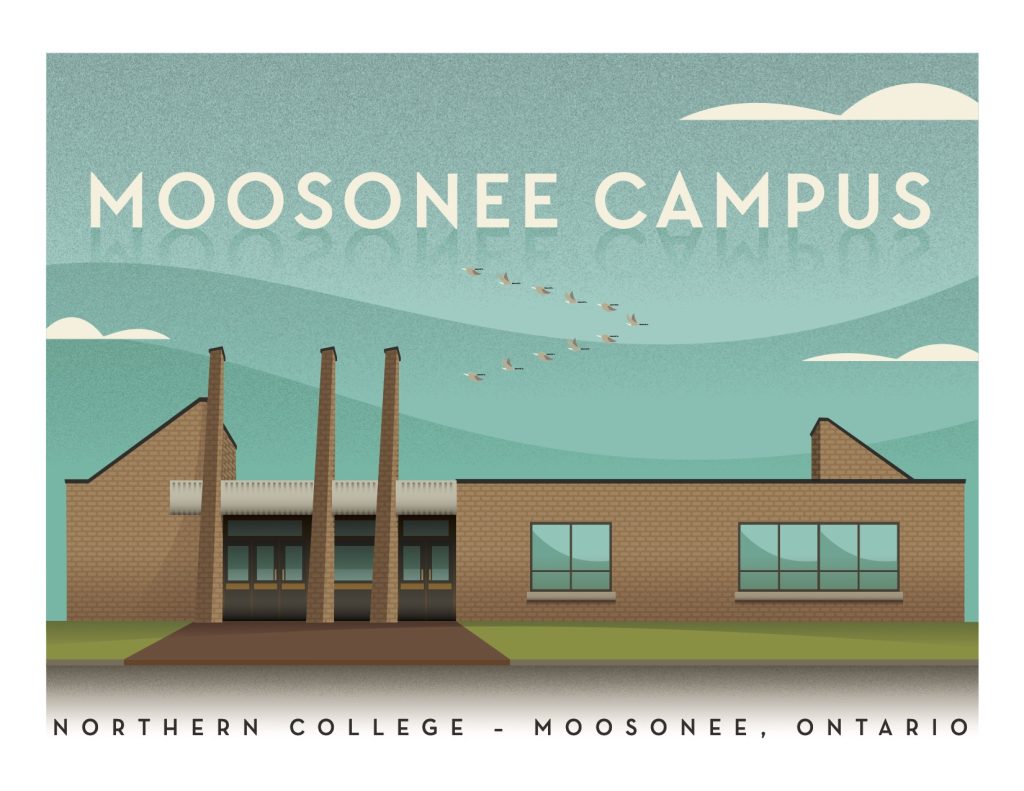 Life Off-Campus
The town of Moosonee is a vibrant, tightly-knit community located 19 kilometres south of James Bay on the Moose River and serves as a major transportation hub for Ontario's Far North. From Moosonee you'll find passage to other northern communities located on the western coast of James Bay.
Moosonee is surrounded by countless miles of wilderness and muskeg, with opportunities for swimming, boating, fossil hunting, snowshoeing, and even simply exploring this enthralling natural environment. Moosonee's unique location allows for some exciting opportunities that aren't possible anywhere else in Ontario, include watching seals and beluga whales swimming in the Moose River. To put it simply, Moosonee is perfect for those looking for a true northern experience.
History of the Region
The narrative of northern Ontario is often one of frontier, of discovery and what many would describe as a relatively short history of the modern conquering the rugged and unknown.
As we know, the history of Canada and its peoples reaches millennia into the past and the roots of the twin communities of Moose Factory and Moosonee reach back nearly as far.
Moose Factory Island and its surroundings along the shores of the Moose River have long been home to the Môsonîw Ililiw Cree, but for them – like all of Canada's first peoples – life was inexorably changed in the middle of the 1600s with the arrival of Europeans and the Hudson's Bay Company.
Their home and the community of Moose Factory would change hands for the better part of two centuries as the French and English wrestled for control over the Moose Fort or Fort St. Louis depending on which flag was hoisted above its walls.
As the decades passed and European influence over the continent became all but certain, the reality of an oppressed and marginalized future for the first peoples of Canada and indeed the people of Moose Factory was sealed as the ink dried on Treaty 9 in 1905.
Shortly before the treaty was signed, another community, nestled on the shores of the Moose River as it empties into James Bay was established.
Moosonee was founded as trading post, seeking to capitalize on the still bountiful fur trade, marking the beginning of what would become an intimate and permanent connection with its neighbours on Moose Factory Island.
The twin communities would become one of the northernmost railway destinations in the province, Ontario's only saltwater port and an essential lifeline to other indigenous communities along the James Bay coast, earning the longstanding moniker of 'the gateway to the arctic.'
Northern College's campus in Moosonee became a post-secondary educational outpost and was designed to offer residents of the remote twin communities and the surrounding area a tangible and accessible place of learning.
As the Northern College signage was raised, it's foundations would be rooted in the story of the land and its peoples, an acknowledgement of the sins of the past and a commitment to a brighter future, marrying antithetical schools of thought into one cohesive opportunity for learning, sharing, and understanding.
For years, the northern reaches of Ontario have served to inform the vision and mission of Northern College, to provide the kinds of tangible and accessible education required by those looking to make an immediate difference in their lives and in their communities; the Moosonee Campus has come to represent those same commitments to Indigenous opportunity, truth and reconciliation.
To educate is to create insight and to create insight is to develop tolerance and to develop tolerance is to change the world.