Northern College Celebrates the Class of 2023
TIMMINS, ON:  Northern College is pleased to honour the graduates and award winners of its class of 2023.
Across six separate convocations at its four campuses, Northern College celebrated a total of 1,300 graduates, issuing over 150,000 dollars graduate bursaries and awards to help set them on a path for success as they enter the working world.
"This is everything for us," stated Dr. Audrey J. Penner, President & CEO of Northern College. "Graduation is the culmination of years of hard work and dedication for our students, and for us. It's the moment that we get to start calling students graduates, knowing that they'll go out into the world equipped with an education steeped in the values we hold dear at Northern."
The Class of 2023, in many cases, represents the first graduating class to have begun their studies during the height of the COVID19 pandemic, overcoming obstacles not traditionally expected when undertaking a post-secondary education.
"This graduating class is unique," stated Aaron Klooster, Senior Vice President of Academic & Students Success at Northern. "For so many of them, the majority of their studies were undertaken at a distance, through online classes. The peer-to-peer support, the support from faculty, the connection to the experience, was all at arm's length."
"They succeeded, they crossed the stage and now they are on to bigger and better things and we know they'll handle whatever life throws at them with ease and confidence, thanks to this unique experience," added Klooster.
All told, 192 students received graduation bursaries and awards, thanks to their outstanding efforts during their studies, including Governor General's Academic Medal winner Law Clerk graduate, Deniese Morris.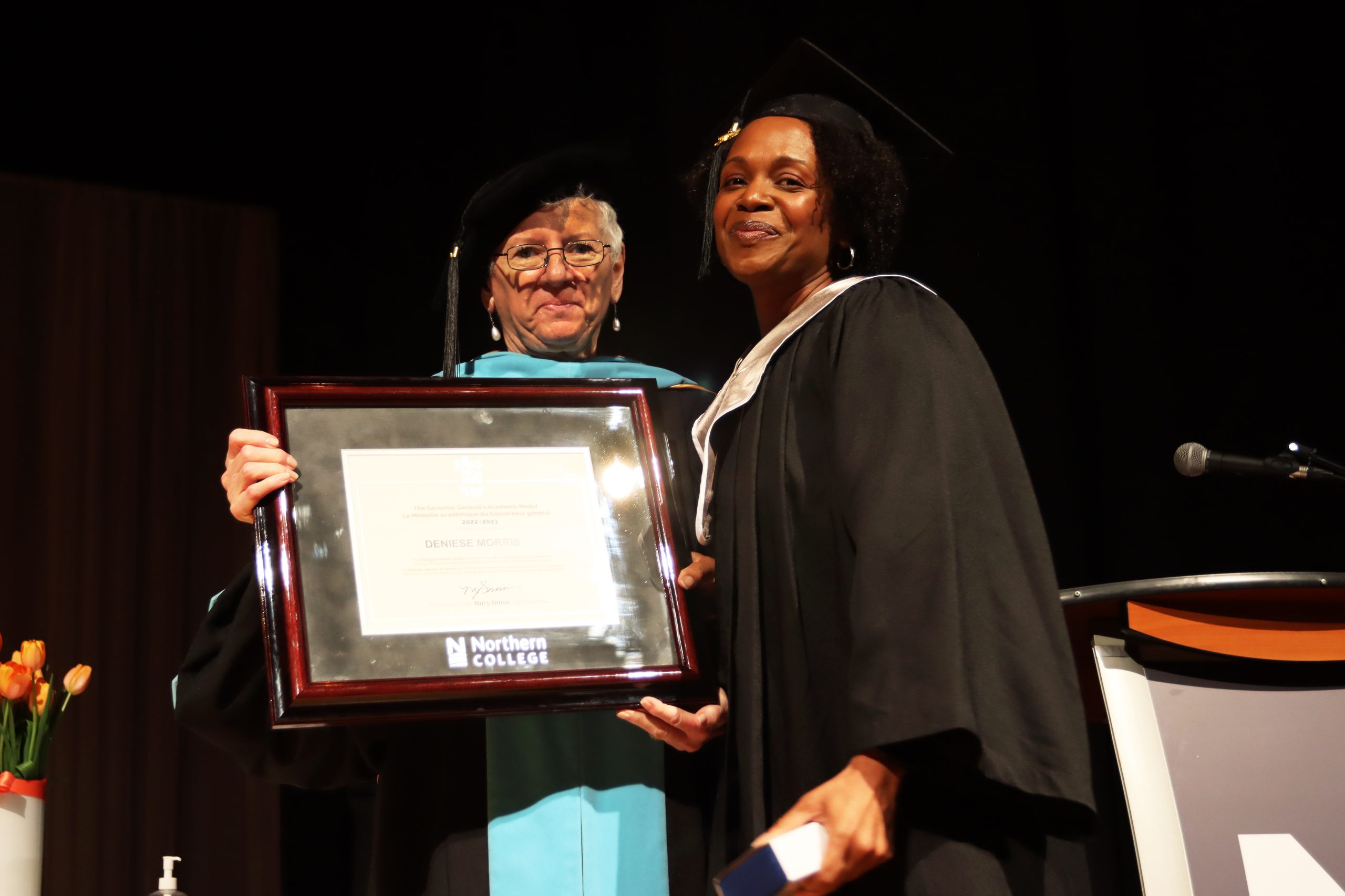 "I am truly excited!" stated Morris, shortly after receiving her award. "It's an honour, everybody knows me as the mom, the wife. I have four kids and to be in school at the same time, to graduate with an average of 97 per cent? I am in awe of myself and I am truly grateful to the college for acknowledging that effort."
The Governor General's Academic Medal is awarded to the student with the highest-grade average of any student in their graduating class.
"I am continuing my studies. Northern College has a great transfer agreement with Ontario Tech University, so I am going to be pursuing an Honours Degree in Legal Studies there," added Morris. "I did not envision this award, but I know I put the work in and it just feels amazing to have reached this milestone."
Northern College is proud of the accomplishments of the Class of 2023, knowing that they join a long line of Northern grads making a difference in the world, both at home and abroad.
~~~~
About Northern College
Northern College, established in 1967, serves the educational needs of post-secondary, apprenticeship, and contract training, both on-site and through remote learning, as well as delivering academic upgrading and employment services. Its catchment area covers 160,000 square kilometres, which is roughly the size of France, and includes over 65 communities – 18 of which are First Nations. The College has four main campuses located in Haileybury, Kirkland Lake, Moosonee and Timmins, as well as numerous Access Centres, including those along the James Bay coast. Northern College, known as Canada's Kindest College, is recognized for its warm, welcoming and culturally inclusive environment. It has received the top ranking in the province of Ontario in graduate satisfaction out of all English-speaking colleges (2022). A highly respected community and regional partner with close to 50,000 graduates, including the Haileybury School of Mines (est. 1912), the College plays a critical role in the region's economic development as well as a strong global mining influence.
Media Contact:
Kyle Gennings (he/him)
Communications & Government Relations Officer
Marketing, Communications, and External Relations
705-235-3211 ext 2276
705-235-6888
705-288-1101