Northern College Graduates Make Pledge for Social Justice
TIMMINS, ON: Northern College is recognizing another year of placing a sincere focus on moving Indigenous inclusion, understanding and reconciliation forward.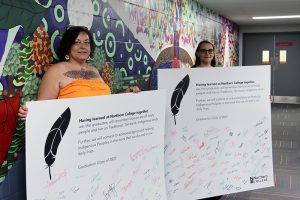 As the Class of 2022 celebrated their convocation in person at each of Northern College's campuses, graduates were given the opportunity to pledge their support for Indigenous issues in their future lives and careers, with hundreds agreeing to sign their names on a growing list of friends and supporters of justice.
"This is a very important gesture for us," stated Trudy Wilson, Northern College's Manager of Indigenous Services and Initiatives, of the student pledge. "We honestly weren't sure what to expect when we decided to take this direction, but the support has been overwhelming and it reinforces that the awareness of, and support for Indigenous issues is growing."
"With so many extending this gesture of good, there is greater potential for change on the horizon. It is encouraging to see this kind of support from the next generation of young professionals and keeps us inspired to keep going," Wilson added.
Overseeing a large number of initiatives at Northern College is a long-established Indigenous Council on Education (NCICE) which directly informs Northern's Board of Governors. The Council serves to provide insight, context and directional input on Indigenous issues with seats at the table held for a large number of First Nations and Indigenous rights holders. The Chair of the NCICE is a member of the Board, enshrining Indigenous perspectives at the highest level at the College.
"A seat at the table and holding space for Indigenous rights holders is incredibly important to listening and hearing – a critical part of learning and of respect," stated Dr. Audrey Penner. "At Northern, we want to lead the College system in moving reconciliation forward in the province and the country.  Representation matters. We are committed to doing all that we can to elevate and integrate Indigenous cultures, perspectives, and communities within our walls.
As laid out in its latest strategic plan, Northern College is committed to Indigenous Education and Empowerment once again and building upon a strong foundation. The initiatives undertaken this year at Northern College's four campuses include the commission of four sculptures to serve as memorials for residential school survivors and those who did not make it, the expansion of Indigenous cultural courses for students, the creation of a sacred garden for the planting of healing medicines at the Timmins Campus, and monthly workshops designed to embody indigenous cultural teachings through traditional craftwork.
These and other initiatives have turned aspirational sentiments into tangible realities for students, graduates and communities.
"This is a key point of focus for us and will remain to be so," stated Dr. Audrey J. Penner, President & CEO of Northern College. "We are committed and devoting the resources in both  people and time to moving these initiatives ahead."
"Northern College is an educational institution, as we know," stated Susan Hunter, Northern's Chief Cultural Officer. "Education is fundamental to understanding, to building bridges between people, dispelling biases and assumptions, and creating growth – both individually and as a community."
"It is an obligation as educators to provide a space to celebrate cultures, encourage inclusion and provide the fertile ground required to grow increased connection among students from every cultural background and societal understanding," Hunter added.
For more information on Northern College's Indigenous initiatives, please visit https://www.northerncollege.ca/indigenous/