Northern College Unveils Statues in Honour of Truth & Reconciliation
TIMMINS, ON:  As part of its ongoing contributions to the pursuit of Truth & Reconciliation, Northern College has commissioned and unveiled four bronze statues honouring those who survived Canada's residential school system and those lost to it.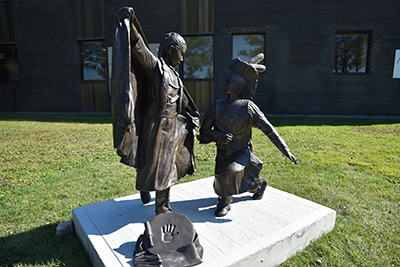 The four matching statues reside at each of Northern College's campuses, serving as a reminder of the innocence and sense of self that was stolen from Indigenous children and their families and communities. The role that Canada and Canadian structures and organizations played in that theft is part of the truth telling, along with honouring Indigenous strength, survival, culture and connection.
"When I sculpted the Shawl Dancer and the Grass Dancer, I included symbols that I hoped would resonate among First Peoples, inspiring recognition and connection," sculptor of the pieces, Tyler Fauvelle told those gathered at the unveilings. "The handprint on the Inuit drum, just above the Metis sash, is a mark of continuity. Handprints are among the oldest symbols that humans, including children, have left behind for us to see, hundreds of generations later, so it was fitting to include them in these pieces."
Northern College has long championed its commitments as a college of choice for Indigenous learners, creating learning opportunities, supports, and cultural spaces and events for Indigenous students. Included in this are the presence of Elders at each campus.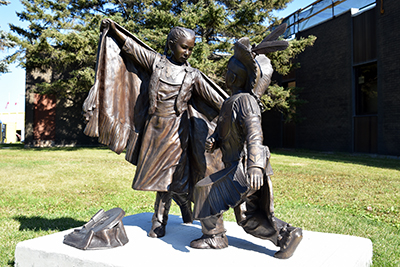 "An institution and its values are reflected in those who walk our halls and study in our classrooms," stated Dr. Audrey J. Penner, Northern College President & CEO.  "We are truly a Northern College and thus our connection and commitment to Indigenous individuals, organizations and communities is more than just  abstract, it factors into our daily lived reality, our operations, our perspectives, and our decision making – taking into  account the impact we can have on the learners who seek to be empowered here."
The installation of the statues is an important step that Northern College has taken in partnership with the Indigenous communities it serves, the moment has proved to be one of mixed emotions.
"Each statue unveiling provided a very somber experience, yet it also provided an experience filled with hope, strength, and pride for our Indigenous culture," stated Christina Kioke, Manager of Indigenous Services & Initiatives at Northern. "When looking at the statues, it feels as though the children depicted are full of life, dancing and celebrating who they are. The statues will act as a constant reminder of how beautiful and resilient we truly are as Indigenous peoples, providing an atmosphere at Northern College of acceptance, of belonging, of a strong future."
It is the hope of Northern College that the statues will serve to keep this sad chapter in Canadian history in the minds of those who visit its campuses, knowing that it will be some time before it can be closed.
"This moment in our history serves as a reminder of the need to work individually, as well as collectively, in the larger Truth & Reconciliation effort. It will serve as a reminder to stop and think about what it truly means to be a just and inclusive country for all, and to recognize the ways in which we have abused our powers as institutions rooted in colonial ways of being," added Penner.
Northern College would like to thank the sculptor, Tyler Fauvelle, and the casting foundry, MST Bronze. They have made meaningful in-kind contributions, in recognition of the artworks' significance.
-30-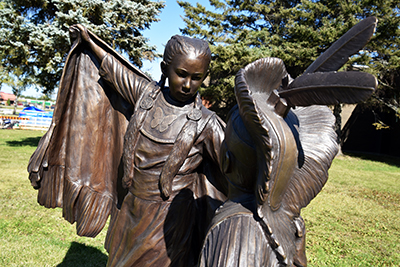 About Northern College
Northern College, established in 1967, serves the educational needs of post-secondary, apprenticeship, and contract training, both on-site and through remote learning, as well as delivering academic upgrading and employment services. Its catchment area covers 160,000 square kilometres, which is roughly the size of France, and includes over 65 communities – 18 of which are First Nations. The College has four main campuses located in Haileybury, Kirkland Lake, Moosonee and Timmins, as well as numerous Access Centres, including along the James Bay coast. Northern College, known as Canada's Kindest College, is recognized for its warm, welcoming and culturally inclusive environment. It has received the top ranking in the province of Ontario in graduate satisfaction out of all English-speaking colleges (2022). A highly respected community and regional partner with close to 50,000 graduates, including the Haileybury School of Mines (est. 1912), the College plays a critical role in the region's economic development as well as strong global mining influence.
Media Contact:
Kyle Gennings
Communications & Government Relations Officer
Northern College
705.235.3211 x2276
genningsk@northern.on.ca