Registration & Enrolment
Confirmation of Registration
International students who have obtained their visa approvals and reported their visa copy via OCAS IAS (where you submitted your application to us) will be registered in the order that the visa approvals are received.
It is very important that you upload a copy of your visa through the portal immediately when your visa is approved. Otherwise, we cannot proceed with your registration.
There are maximum seats for each program the college offers, if you do not confirm your visa early, we cannot guarantee you a seat in your program.
Once you are registered, your Confirmation of Registration (CoR) letter will be sent to you through email.
This letter includes all the required information such as:
Tuition fee payment information for the first semester,
Your Northern College email address,
Your Student Portal account information and Blackboard login
This is your enrolment letter to get through the Canadian Border when you arrive in Canada. The college will NOT issue any other enrolment letter to you until you arrive on campus.
Only students who received the CoR letter are permitted to travel to Canada for their studies.
Sample of Confirmation of Registration (CoR) Letter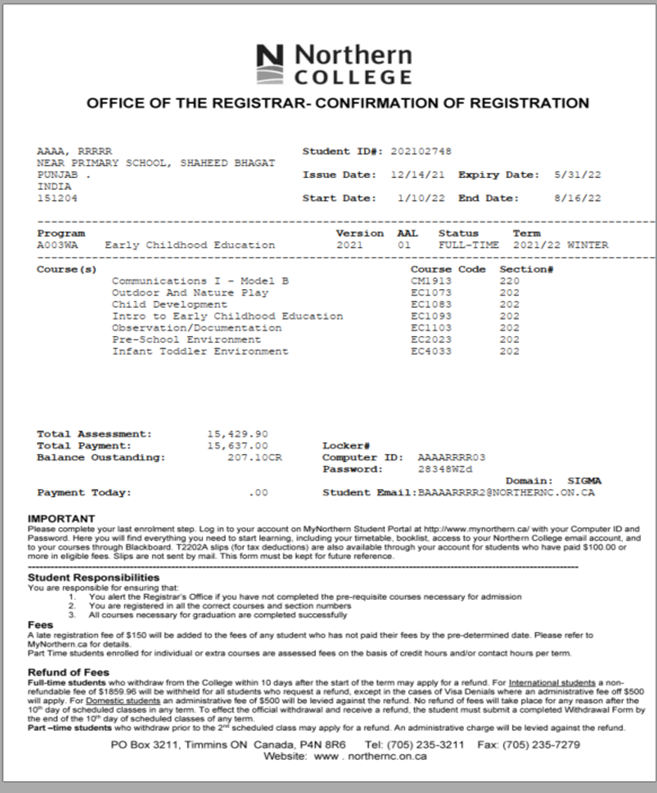 International Student Health Insurance Insurance
Every international student whose study status is full-time "registered" or "enrolled" (or who have received the "CoR" letter) will be insured by the Morcare International Student Insurance plan (mandatory), which is equivalent to OHIP (Ontario Health Insurance Plan).
You will be able to download your international insurance certificate at the end of the first month of your first semester via https://morcare.ca/your-space
You will be required to pay any medical bills out of pocket before you receive your health insurance certificate. These medical expenses can be claimed for reimbursement through your Morcare account once it is activated.
Be sure to keep your receipts.
Insurance coverage begins 30 days before the start of the semester.
Family Insurance:You may select the family plan within 30 days of the effective date of your insurance plan. The family plan will not be accepted if the member does not opt in their family within the 30-day period.
Please contact Morcare by logging in to your secure account at https://morcare.ca/home/77-northern-college-international-students-
Please note: The insurance premium is charged each academic year (the previous September 1st to August 31st next year) and is not prorated for Winter and Spring intake students.